Optimized district energy
All good investment decisions start from the planning table. The masterpiece of our symbiotic approach to water and energy is Fluidit Heat – a groundbreaking thermohydraulic modeling tool for district energy systems.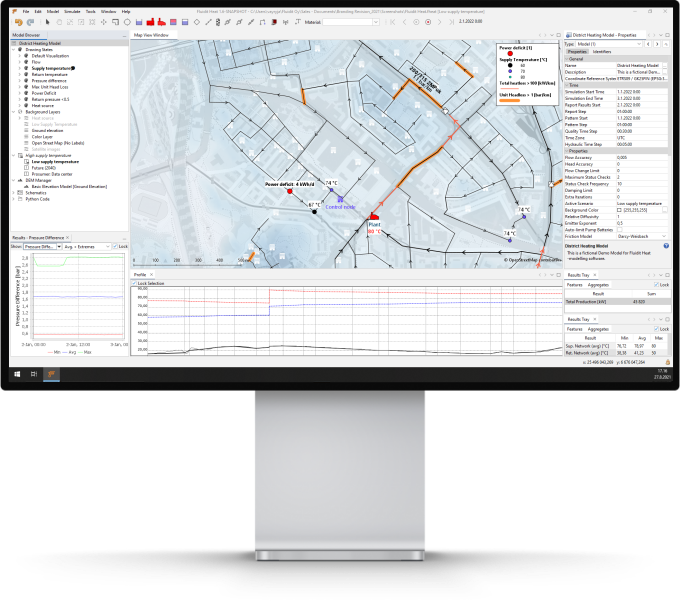 What if you could
Gain control of complex district energy systems
The changing climate highlights the demand for high-quality district heating and cooling systems that cater to the needs of the growing urban population. Utilities face tremendous challenges due to deteriorating pipelines, changing behaviours, and more efficient heating and cooling demand. The ultimate goal of carbon neutrality by 2050 requires leading tools for energy network designers and managers.
With Fluidit Heat, you can gain complete control of complex district energy systems by building a Digital Twin that includes prosumers and multiple production facilities. Fluidit Heat is a cost-effective and intuitive software solution for utilities striving to achieve better network design, make optimal investments and understand the system's overall performance.
Fluidit Heat is a revolutionary district energy system simulator. Design, operate and analyze complex district heating and cooling systems as Digital Twins. A high-speed simulation engine and intuitive user interface enable robust data analysis and insightful decisions on your valuable assets. Fluidit Heat is built upon the industry-leading hydraulic network simulator with an in-house developed energy transfer simulator. It offers a fast GIS-based user interface with online background maps to create fully customizable visualizations to enhance scenario analysis and communicate with stakeholders.
Analyze district heating and cooling systems
Fluidit Heat is much more than just a hydraulic simulator. You can determine optimal production settings for your heating sources, pick operational order, the power needed, temperatures and pressures. You can model the present conditions, future scenarios or create weather dependent and consumer-specific demand forecasts. Consider variables such as fuel prices, CO2 tariffs, and electricity prices to determine the net operating costs of production plants and pumping stations. Identify network leakages, heat and pressure losses and determine the optimal level of service for each consumer.
Heat and mass transfer analysis and design tools
Evaluate working points and energy usage of pumping stations
Analyze the hydraulic and thermal balance of the system.
Use informative and user-friendly pressure head diagrams.
Apply return temperature/cooling curves as a function of outdoor or supply temperature.
Determine demand deficit, for example, in pipe burst circumstances or areas with low differential pressure.
Model production plants with both constant pressure difference and constant power control.
Control supply temperature and heat production based on time of day with either continuous or fluctuating outdoor temperature.
Use customizable schematic views to prepare automatically updating and intelligent dashboards based on simulation results or arithmetical operations.
Calculate raster background maps based on node/user data and simulation results.
GIS-interface
Quickly import, draw and edit network components in the fast built-in GIS interface.
Online background maps (Bing Maps, OpenStreetMap, Satellite maps, custom WMS/WFS…).
Integrated elevation models, automatic elevation retrieval for junctions and hill shading.
Windows and results update automatically based on active selection.
Fully customizable visualization for components and results.
Wide range of Reference maps (shp, dxf, geotiff, mif, geojson, GML…).
Support for all EPSG coordinate systems.
Affine coordinate transform available.
Movable and floatable user interface windows.
Built-in pipe material libraries.
API (Python, JavaScript, RUBY).
Plan and assess investment impact
District energy systems are highly interconnected – everything affects everything. Therefore, impact assessment of investments and any changes in the network need analysis at a system level. Simulating the technical feasibility of operating parameters or new technologies provides invaluable additional information on investment financial planning. Modeling offers critical insights into emergencies and helps to prepare and plan for incidents.
Typical use cases
The whole-cost effect of reducing supply or return temperature.
Impact of connecting separate energy networks.
Operating low-energy networks connected to district heating networks.
Using and sizing of thermal accumulators in load balancing.
Assess the feasibility of network thermal pump-priming.
Sizing and utilizing heat exchangers while optimizing temperature differences over the process.
Analyze the impacts of changing return temperatures to combined heat and power plant (CHP) condensation.
Plan network improvements or design of new pipelines.
Plan locations and sizing of new plants and pumping stations.
Download PDF brochure
Successtories & Testimonials
"While we are still in the early phases of building models of our systems, we are already getting great value through understanding the impact of changes in the system, and thus making better decisions. Modeling should be an essential part of our daily operations in the future."
Dr. Sigríður Sigurðardóttir
Manager, Network Development, Veitur, Iceland
Fluidit Heat, Fluidit Storm, Fluidit Water
"I like how easily I can visualize the network data, GIS background layers and simulation results, and create professional graphical illustrations using Heat's built-in tools. And better yet, I can do this with multiple scenarios to develop robust comparisons and quickly identify undersized pipelines."
Kasperi Lehtinen
Network Engineer, Lahti Energia
Fluidit Heat
"In the future, we would like to do more scenario analysis to get insights into how different weather conditions affects our network. I usually get many new ideas while doing the modeling work – the possibilities with Fluidit Heat are endless."
Kasperi Lehtinen
Network Engineer, Lahti Energia
Fluidit Heat
"Fluidit Heat offers comprehensive tools and an intuitive user interface for analyzing complex district energy systems. The most remarkable strengths of the software include the calculation speed of the simulator and the broad range of easy visualization tools for simulation results."
Panu Kuitunen
System Engineer, Heating & Cooling Finland, City Solutions, Fortum
Fluidit Heat
"A great advantage is the possibility to utilize Python scripts for performing analysis comprising thousands of simulations that would otherwise require a huge amount of time and manual labor. Add the expertise of Fluidit's team and it is guaranteed that not a single district energy system related issue will be left unsolved."
Panu Kuitunen
System Engineer, Heating & Cooling Finland, City Solutions, Fortum
Fluidit Heat
"Fluidit has showcased significant flexibility in modeling, with our own competence becoming the primary limitation rather than the software."

Carl Lenman
System Analyst, Hafslund Oslo, Celsio
Fluidit Heat
"We were primarily interested in a calculation and simulation tool that works with geographic information systems (GIS), making it easy to import, manipulate, present and export maps. Fluidit ticked all the boxes. For example, we really liked the colour coding for temperature, pressure, speed and direction of matter within the network."
Mark Supper
Engineer at Rotterdam Engineering BV
Fluidit Heat
"User-Friendly and feature-rich tool with integrated GIS, which is a plus. It seemed like complex networks and systems would not be a problem. The scenario tool using base- and child scenarios is very helpful."
Stijn Wolterink
District Heating System Developer, Warmtenetwerk Westland
Fluidit Heat
"The use of Fluidit Heat has already resulted in significant savings in investment costs. In one renovation project, we were able to determine that we could use pipes that were three dimensions smaller than we had initially planned, resulting in substantial savings in material and transportation expenses."
Mikko Kivistö
Network Engineer, Hyvinkään Lämpövoima Oy
Fluidit Heat
Find the right plan for you
We offer simple licencing solutions and bundles tailored to your needs. All our licenses are unlimited in model size, number of components and features. Use our floating network licenses to maximize flexibility in your organization.