Prevent sewer overflows
Fast, engaging, and analytical. With Fluidit Sewer, engineers can quickly identify bottlenecks and optimize sewer systems to mitigate sewer overflows and blockages.
What if you could
Provide safe and cost-effective sanitation?
The provision of safe sanitation services for fast-growing urban populations is one of the world's most urgent challenges. Sanitation systems are the backbone of healthy, thriving communities, yet they are constantly under pressure due to inadequate investment in network rehabilitation. Complex networks can also be challenging to manage and operate.
Fluidit Sewer will help designers and modelers worldwide to plan and design flood-free and energy-efficient sewer systems. It takes the system analysis to a new level with creative visualizations, streamlined design tools, and powerful scenario analytics that help utilities make insightful decisions on the planning and operation of the sewer system.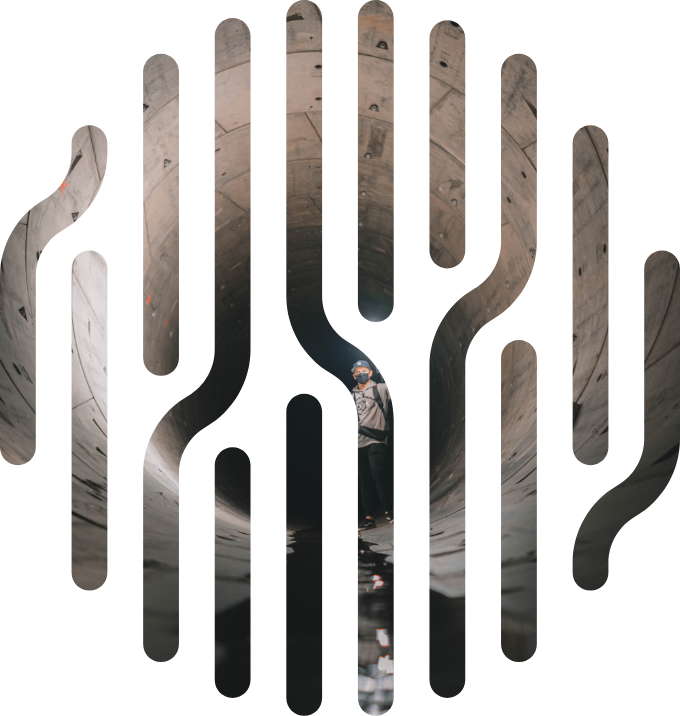 Fluidit Sewer combines an enhanced SWMM modeling engine with modern software architecture. Quickly export and import GIS data, explore scenarios, create customized reports, manage leaks and pumping stations. Sewer's tools help users to spend less time crunching data and more time designing and analyzing sewer systems.
Analyze sewer systems hydraulic capacity
Build, manipulate and analyze sewer networks in a breeze. The proven SWMM solver ensures feature-rich and reliable 1D simulations for urban networks. Fluidit's innovative tools save tons of time and make understanding and optimizing sewer systems creative and fun tasks. The streamlined workflow lets you focus on what matters – finding optimal solutions.
Hydraulic design & analysis
Analyze the flow characteristics and the capacity of sewer networks.
Identify and quantify network overflows.
Design pit and pipe drainage systems, including various flow control structures.
Design stormwater detention ponds and source stage-storage curves directly from the Digital Elevation Models.
Choose optimal pipe configurations and develop overflow mitigation strategies by comparing an unlimited number of scenarios and child scenarios.
Explore the impacts of a growing population.
Include rainfall-derived infiltration and inflow (RDII).
Quickly manage the water balance of different zones of the network.
Use the built-in tool for pumping station capacity analysis.
Model open channels with the SWMM solver.
GIS-interface
Import, draw, edit and export network data in the built-in GIS interface.
Use powerful bulk editing tools to update and modify data.
You can apply ground elevation data from DEMs directly to Junctions to ensure a flush connection with the ground surface, critical in flood analysis.
Add several DEMs and combine them directly in the software.
Quickly fetch elevations for pipes and junctions from DEMs.
Assign inflows to the closest sewer pipes with a few clicks.
Use the Drawing States to quickly create insightful network maps that dynamically update based on any active dataset or selected results in the model.
Conduct risk, quality and energy analyses
The benefits of Fluidit Sewer ramp up when used to perform overall risk assessments and energy analyses on the systems. Mass analyses and visual tools make it easy for design engineers to compare different sizing scenarios and pumping station equipment configurations.
Risk, quality and energy analyses
Analyze network energy efficiency.
Estimate the cost of sewer inflows and sewage.
Perform energy assessments for every pumping station and the whole system.
Explore possibilities to recover energy and heat from sewage.
Quantify CO2 emissions and plan reductions.
Optimize pumping station sizing, control and operation.
Identify critical pipes and pumping stations.
Model the water quality and track pollutants in sewage.
Understand sewage travel times.
GIS-interface
Import, draw and edit catchments in the built-in GIS interface. Splitting, merging and exporting catchments, among other practical operations, can be done in a snap.
Easily apply online-based datasets, such as Digital Elevation Models (DEMs), aerial imagery, and base maps to investigate catchments and study areas.
Create contours from any raster data or DEMs on the fly.
Edit DEMs by adding elevation polygons that tie into the other surfaces in the model.
Source point elevation data or measure lengths and areas anywhere in the map space with a few clicks.
Create highly visual animated maps that are updated based on any active dataset or selected results in the model.
Download PDF brochure
"We have been working with Fluidit in regards to analyzing water and wastewater networks. We are using their software and expertise on various design tasks and gaining information for operation. We want to make decisions based on knowledge, and that's exactly what deep analysis provides us."
Irina Nordman
CEO, Turun Vesihuolto Ltd
Fluidit Sewer, Fluidit Water
"Fluidit's specialists teach our students and researchers of Water and Environmental Engineering with their modeling software to understand the operation and behavior of water and wastewater systems. Fluidit actively leads the whole water industry into more intelligent direction with their research-oriented approach."
Professor Riku Vahala
Water and wastewater engineering, Aalto University
Fluidit Sewer, Fluidit Water
Find the right plan for you
We offer simple licencing solutions and bundles tailored to your needs. All our licenses are unlimited in model size, number of components and features. Use our floating network licenses to maximize flexibility in your organization.