Optimized water supply system
Modern, visual, and agile. Fluidit Water is the best hydraulic simulation software for water distribution systems. Plan investments, develop creative solutions and optimize the operation of the system.
What if you could
Optimize water for everybody?
What does it mean to optimize water? It means that we start looking at our water supply systems as part of a holistic smart city organism. It means that we need to consider all aspects of everchanging, growing cities. We need to be sure that our solutions are financially and technically sound to spend taxpayers' money wisely. It is paramount that the water supply system is safe and resilient to changes and emergencies.
Did you know that water distribution and pumping are significant contributors to global greenhouse gas emissions? With Fluidit Water, you can optimize water distribution systems and minimize the energy consumption caused by pumping vast amounts of water at great distances. By modeling water distribution systems, we can start making future-proof decisions today and significantly reduce the operating costs and the carbon footprint of water utilities.
Fluidit Water is state-of-the-art hydraulic modeling software for the design and analysis of water distribution systems. What if you could model complex systems and analyze scenarios with ease and precision? A fully configurable user interface, endless visualization possibilities, and the power of multithreading technology are just some highlights that ensure a smooth workflow in your projects. If you plan to take your water distribution system to the next level – simulate it first with Fluidit Water.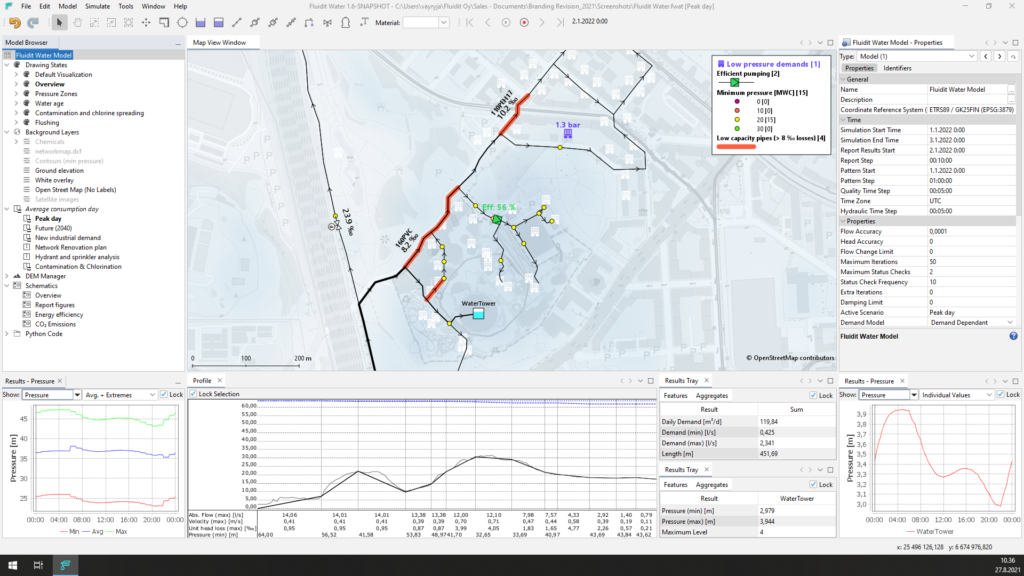 Invest where it matters the most
Cities are everchanging. The population growth and urbanization are rapid in some areas, while elsewhere population is shrinking, and infrastructure is neglected. Since it is impossible to predict the future, the infrastructure supporting these areas rarely meets the current requirements. The water distribution system may be outdated or undersized and include unnecessary connections. With Fluidit Water, you can evaluate and prioritize investments and create safer infrastructure for everyone.
Hydraulic design and analysis
Analyze the flow characteristics and the capacity of your network and utilities.
Identify network capacity issues.
Design and simulate pipelines, pumping stations, water towers and valve stations.
Design and simulate control parameters.
Quantify the impacts of investments on system resilience and reliability.
Choose optimal configurations by comparing an unlimited number of scenarios and child scenarios.
GIS-interface
Import, draw, edit and export network data with the built-in GIS interface.
Use powerful bulk editing tools to update and modify data.
You can apply ground elevation data from Digital Elevation Models directly to the network.
Create virtual elevation models that emulate invert levels enabling quick model building even with limited data.
Create insightful network maps and present results using versatile visualization tools.
Prepare for incidents
A safe, uninterrupted water supply is the lifeline of any community. Despite all the precautions, pipe bursts, pumping station failures, and even contamination occur at times. Such emergencies highlight the need to be prepared and have recovery procedures in place. Fluidit Water can help utilities to prepare for all scenarios – no matter how unlikely or difficult.
Tools for analysis
Identify the important and vulnerable pipe sections in your network
Identify the effect of pipe failure to critical customers and the network as whole
Simulate the effect of fire flow (eg. hydrants, sprinklers) devices to the system
Plan and simulate emergency flushing and chlorination
Identify critical and vulnerable pipe sections in your network.
Identify the effect of pipe failure on critical customers and the whole network.
Simulate the impact of fire flow devices on the system (e.g. hydrants, sprinklers).
Plan and simulate emergency flushing and chlorination procedures.
Assess the extent of contamination by simulating the spreading of pollutants throughout the network.
Define critical pressure levels for specific customers.
Increase utility personnel situation awareness by using simulation and scenarios.
Visualize simulated events
Use the inbuilt video export tool to create videos from any view in the software.
Communicate effectively with stakeholders by producing maps and graphs of simulated events.
Create any combination of dynamic graphs, maps and GIS visualizations.
Export maps and graphs easily in PDF or vector image formats for external reports.
Reduce the environmental footprint of your utility
The water sector accounted for 4% of the global electricity consumption in 2014, of which about half were due to water supply and distribution (World Energy Outlook 2016). Reductions to the electricity consumption of the water supply are required to achieve the UN set Sustainable Development Goals for 2030 and IPCC desirable CO2 emission scenarios. The electricity consumption of the water supply system could reduce by 20% through holistic system optimization. Would you like to try it?
Tools for analysis
Assess energy balance for the whole system.
Identify pumping stations with poor efficiencies.
Optimize sufficient pressure levels for each pressure zone.
Optimize pump sizing and control parameters.
Identify and reduce leakages.
Remove bottlenecks in the system.
Estimate C02 equivalents at consumer and individual component levels.
Download PDF brochure
"We were pleased with the software deployment process and how it was implemented. Everything was completed on budget and on schedule, which is not self-evident in most cases."
Sauli Pihamaa
Design Engineer, Lahti Aqua
Fluidit Water
"We have been working with Fluidit in regards to analyzing water and wastewater networks. We are using their software and expertise on various design tasks and gaining information for operation. We want to make decisions based on knowledge, and that's exactly what deep analysis provides us."
Irina Nordman
CEO, Turun Vesihuolto Ltd
Fluidit Sewer, Fluidit Water
"Fluidit's specialists teach our students and researchers of Water and Environmental Engineering with their modeling software to understand the operation and behavior of water and wastewater systems. Fluidit actively leads the whole water industry into more intelligent direction with their research-oriented approach."
Professor Riku Vahala
Water and wastewater engineering, Aalto University
Fluidit Sewer, Fluidit Water
Find the right plan for you
We offer simple licencing solutions and bundles tailored to your needs. All our licenses are unlimited in model size, number of components and features. Use our floating network licenses to maximize flexibility in your organization.